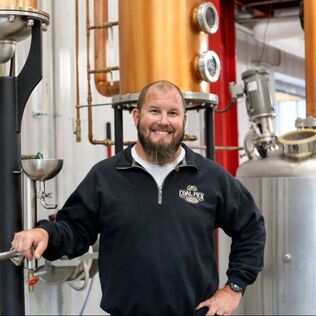 Whitney Spence
Master Distiller & Facility Manager
Coal Pick Distillery
Drakesboro, KY
A little about the Master Distiller Whitney Spence at Coal Pick Distillery. I was born in the city of Greenville, the county seat, in what used to be the largest coal producing county in the world, Muhlenberg County, Kentucky. I was raised just a few short miles away in Central City and have continued to live in Muhlenberg County my entire life. I graduated from Muhlenberg North High School in 2003 and went on to technical college where I graduated with an industrial maintenance degree in 2006. I married my beautiful wife in 2016 and together we have two handsome young boys, Whitson age 6 and Oliver age 8 months.
Since I was a kid I have always loved working with my hands and learning new things and after working with my dad in the garage on lots of different projects, I knew from a young age that is what I wanted to do in life. I guess that is why helping build and manage a distillery has been very intriguing to me. From the first piece of dirt that was turned over to the spirits that are barreled today, I have been involved in every aspect of building and running Coal Pick Distillery. I have visited lots of different distilleries, spoken to several master distillers, and even worked with a couple to learn others ways of doing things. There are days that go by that I think, man I didn't get anything accomplished today, and there are days that I feel like I got everything done except for hanging the moon. It has been a challenge no doubt, but it is one I can honestly say I have learned so much from and met so many great people that I wouldn't change it for anything. Every day brings its own set of challenges but I take it in stride and continue to work hard to produce a great product that everyone will enjoy for years to come. I am very blessed and humbled that the owners of Coal Pick Distillery have trusted and believed in me to help them succeed and accomplish the dream of owning and operating their own distillery. I know one day I'll be able to look back and say, wow what an awesome experience and smile as people enjoy what we have worked so hard for. So from me and all of us at Coal Pick Distillery, cheers to great bourbon!
How long have you been there: Five years
What do you distill: Bourbon, Rye, American Whiskey
Favorite Release: Wheated Bourbon
How do you like your Whiskey: On ice
Favorite cocktail: Not much on cocktails, just bourbon.
What made you want to become a Distiller: Well I'm from Kentucky and we all know Kentucky is the bourbon capital of the world, so why not be a part of it. It's the science behind every batch by taking ingredients and making something people enjoy drinking. Carrying on a time honored tradition that has been going on in this state for over a hundred years and etching our name in history by producing a product people will know and enjoy for years to come. Who wouldn't want to do that?
How did you get to where you are today: With a lot of hard work, blood, sweat, tears and lots of bourbon! We've had conversations ranging from 15 minutes to several hours with people in the distilling industry and industries that support distilleries, as well as visiting other craft distilleries and speaking with their owners. Those are just a couple of the ways we got to where we are today and we can honestly say we wouldn't be where we are without all the help, so thanks to all those that have helped us along the way, you know who you are.
What makes your distillery special: We feel we are special and blessed because we are located on a large piece of heaven on earth, 2700 acres to be exact, with animals such as buffalo, elk, whitetail deer and our own small heard of Scottish Highlander cows, who all love our spent mash that we feed them every week.
We pot distill, age and bottle all of our own product and do not source any alcohol out so we can say what is in the bottle is all made right here on site. We do it all from grinding, cooking, fermenting, distilling, barreling, aging and bottling all in one location. We store our barrels onsite in our own private rick house that is an all steel construction frame that Kentucky had never seen used in this application before. It's a very unique setup and allows us to get to our mature barrels first without having to manually handle our younger maturing barrels
If I wasn't a Distiller, I'd be: In the distillery mechanical and engineering.
What are your hobbies outside distilling: Playing with my two young sons, duck hunting and hanging out with my wife and friends.
Any insider information you'd like to share: We are working on more releases in the very near future so be looking for a small batch and single barrel releases of our wheated bourbon soon. We pride ourselves on producing good bourbon and hope everyone will enjoy it was much as we have enjoyed making it. Check out our website for merchandise, product release dates and some video footage of our little piece of heaven on earth.